The Undisrupted: A Portrait of Blue Collar America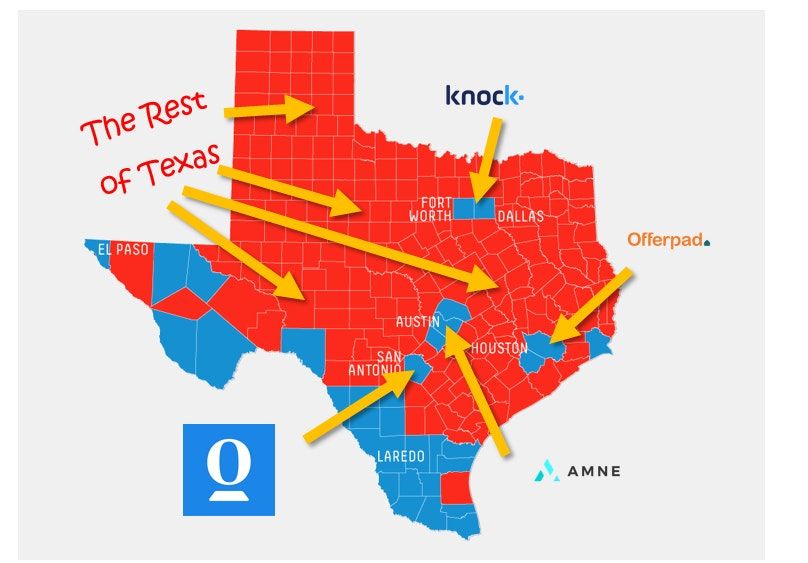 By: Brian Adams
[Note from editor: We publish Bi-Weekly Transmissions for paying members of the GEM Crystal that consist of long form articles covering the spectrum from shipping container co-living spaces to the battle for listing acquisition in the first iBuyer world war. Below is a sample Transmission.]
There are billions pouring into the industry. New business models are being pioneered and funded to historical degrees. The established brands are getting whiplash trying to keep up and innovate. Agent commissions continue to feel downward pressure. Brokerages are arming themselves with new technologies, apps, and tools.
But you wouldn't know it in some parts of America.
WELCOME TO FORT HOOD, THE GREAT PLACE
Killeen, TX is not a small town.
The MSA has an estimated 450,000 residents. Killeen itself is the largest city in Texas geographically located between Austin and Dallas, larger even than Waco of "Fixer Upper" fame.
Two local agents are on Real Trends' top 250 teams in America by number of transactions.
Pulling from the local MLS, the CTXMLS, there were 6419 residential MLS sides in 2018, representing $1.1B in real estate transactions and an estimated $68.9M in gross commissions. That doesn't count the hundreds of land, multi-family, and commercial transactions, nor the hundreds of new construction transactions. Nor do those numbers touch the massive rental transaction volume in a market flush with transient military renters. Nor do these numbers account for the millions in lender, title, insurance, inspector, and vendor earnings.
It is not a slow market, either, with approximately three months' inventory and consecutive years of double digit gains in the median home price.
LET THERE BE DINOSAURS
Both tech adoption and tech disruption among agents and models in our market is, shall we say, pretty modest. While I spend time reading about the big new companies and trends on site like Inman, I don't get to actually see any of it firsthand.
iBuyers like Opendoor and Amne are close by in Austin, but do not buy in our area. The median price in Killeen is only $135,000, less than the $150,000 minimum most iBuyers institute.
There is no Redfin. No major flat fee listing brokerages. No Compass agents. Even Keller Williams, headquartered just an hour's drive away, has but 3 agents total in our market as of this writing.
The Redefy value proposition falls pretty flat in a market where the listing agent's commission is often less than $3000.
Search "Killeen real estate agent". The companies in Google's local map pack are populated by websites that look to be holdouts from the MySpace era of web design. To my knowledge, there is only a single BoomTown user. A single Real Estate Webmasters user. Two CINC users. Zero Real Geeks users.
A browse through Zillow quickly reveals that many agents in the area don't take advantage of professional photography tools and services like BoxBrownie, Virtuance, of HomeJab.
The tech barrier is not entirely agents' fault, either. Services like RealScout and Cloud Agent Suite do not have partnerships with our smaller, local MLS.
In sum, our market does not operate any differently than how real estate was done in 2010. The billions of dollars pumped into real estate the past few years have not affected us in the slightest.
BREAKING THE BANK
There is one business model that has recently invaded Killeen. The model's appeal makes sense for low prices and agents especially eager to keep as much of the commission as possible.
100% commission real estate brokerages.
In particular, All City has swept the area, luring numerous agents with their $150/mo flat fee. The staying power of these models is unknown.
DIVIDING THE VOTE
Tech companies are smart and select markets where there are better profits and larger margins for error. I assume their intent is to refine and perfect their operations, eventually allowing them to work on smaller and smaller margins and only then confidently expand their footprint to America at large.
Or perhaps these markets will be perpetually underserved. Tech companies earn their keep in the high dollar markets and the rest of America might or might not make use of their services. I'm not saying that is right or wrong.
Think of it this way: the urban, high dollar markets where the iBuyers have launched in Texas – Dallas, Houston, Austin, and San Antonio – are all counties that recent Senate candidate Beto O'Rourke won handily. But his opponent Ted Cruz won the election by winning everywhere else.
Perhaps there is still an opportunity for a tech company to "win everywhere else". There is a lot of Ted Cruz country that has yet to be disrupted by models that simply do not work in those markets yet. And markets like Killeen, TX probably still represent the majority of home sellers and buyers.
EARLY OR PERMANENT NEGLECT?
Maybe we "small town" agents are like the Native Americans circa 1492 AD. The Europeans have landed, but we are still in denial that their technologically-advanced-but-disease-ridden business models will eventually spread to our markets, wiping most of us off the map while plundering our rich resources.
(And no – I don't think these avant-garde business models are disease-ridden or exploitative – quite the contrary. It's just a metaphor).
Or maybe we're more like the indigenous peoples in Micronesia. Left alone. Neglected. Ignored while the tech companies race into the future in more profitable and rewarding urban America.
The one thing I am certain about: there is a whole lotta real estate transaction volume in these untouched, virgin lands for the first disruptor who is efficient enough to profitably tap into it.